DVD Tattoosoul - Randy Engelhard
SKU DDVD05
Agotado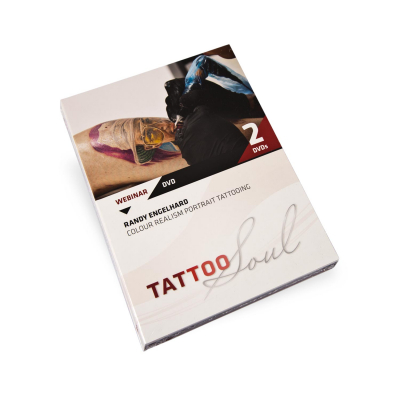 En este DVD de TattooSoul de 131 min. Randy Engelhard, especialista en tatuajes de retratos realistas, muestra lo que es capaz de hacer. Verá desde el punto de vista de Randy una sesión de tatuaje completa mientras explica detalladamente cada paso. ¡Le inspirará su precisión y profesionalidad!
Capítulos:
1. Interview Part 1
2. Customer Dialogue
3. Preparing the Stencil
4. Equipment
5. Shaving and Preparations
6. Applying the Stencil
7. First Run
8. Details and Highlights
9. Care and Wrapping
10. Interview Part 2
Información Técnica:
Duración: 131 min. en 2 DVDs
Idioma: Alemán con inglés superpuesto
Calidad: 16:9 Panorámico PAL
Nota: Todos los DVDs no pueden ser devueltos bajo ninguna circunstancia.
Entrega
Todos los pedidos completados antes de las 16:00 en un día de trabajo serán enviados el mismo día a través del servicio de entrega solicitado.

Los gastos de envío pueden variar en función del tamaño y el peso de su orden, comenzando a partir de sólo € 9.95 por servicio de mensajería UPS. Entregas al día siguiente de trabajo están también disponibles.
Garantía