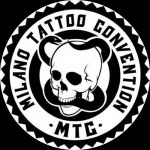 Killer Ink Tattoo en Milano Tattoo Convention
marzo 3, 2017

marzo 3, 2017

es

https://www.killerinktattoo.es/skin/frontend/killer/default/images/logo.svg

https://www.killerinktattoo.es/
Milán puede que sea conocida como la capital de la moda, pero también saben cómo montar una convención de tatuajes!
Nos pusimos en camino hacia Italia al comienzo de Febrero para asistir a la 22 edición de Milano Tattoo Convention, la cual este cambio su localización y tuvo lugar en el centro de convenciones más grande de Europa, el Milano Congressi.
Durante 3 días, hemos grabado un video mostrando a algunos de nuestros amigos y artistas patrocinados trabajando en increíbles tatuajes.
Pincha en el video de abajo!
La guinda del pastel de la Milano Tattoo Convention 2017 fue que nuestro artista patrocinado Ryan Smith ganó el premio 'Best of Show' con una pieza increíble en colaboración con su colega artista Jay Freestyle.
Premios también se fueron para nuestras artistas patrocinadas Debora Cherrys ('Best of Friday') y Sandra Daukshta ('2nd Best of Saturday'), mientras que nuestro gran amigo Benjamin Laukis se llevó 'Best of Saturday'.
Asegúrate que echas un vistazo a nuestra red social para ver a que convenciones asistiremos próximamente!