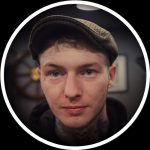 Entrevista a Luke Sayer
mayo 16, 2019

mayo 16, 2019

es

https://www.killerinktattoo.es/skin/frontend/killer/default/images/logo.svg

https://www.killerinktattoo.es/
Luke Sayer se ha granjeado una excelente reputación y muchos seguidores a lo largo de los años con sus tatuajes realistas en negros y grises. Ahora es nuestro turno de ponerle como el foco de atención para nuestra última entrevista.
Hablamos con Luke sobre todas las cosas relacionadas con el tatuaje, incluyendo como se las arregló para ganar la edición inaugural del "E4's Tattoo of Artist of the Year" (Tatuaje del Artista del Año E4) del 2017.
No te la pierdas!
Luke Sayer, un Artista del Mes Esponsorizado por Killer Ink, está actualmente trabajando en su propio estudio de tatuaje, donde este vídeo se ha grabado.
Asegúrate de estar al día de sus últimos trabajos siguiéndole en Facebook, Instagram y Twitter!